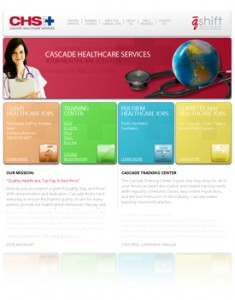 It is not uncommon for healthcare providers to wonder: How we can provide better care for our patients? Dave Fiala and Paul Regalia are two people who often wondered just that. More specifically they realized the need for solutions that directly impact patient care; the availability of competent and well screened medical and nursing personnel and the availability of well designed resuscitation continuing education programs for the healthcare industry.
In 2002 Mr. Fiala and Mr. Regalia formed Cascade Healthcare Services (CHS) providing solutions to these two challenges impacting patient care in the Pacific Northwest.  CHS began with two business verticals specifically designed to increase the number of available medical staff at local institutions and providing the most up-to-date resuscitation training programs for local Physicians, Nurses, Therapists and Allied healthcare personnel.
Today CHS provides supplemental staffing in more than 13 states and including some of the most challenging healthcare environments. Their Travel Nursing division, q-Shift Travel Nurses, provides staff the ability to move from region to region when patient volumes increase. The Cascade Training Center has become one of the largest American Heart Association Training Networks in the US providing healthcare and industrial programs and program management across all 50 states and overseas. Training programs include basic and advanced resuscitation programs that focus on patient care, resuscitation outcomes, limiting liability and providing cost effective management. The Cascade Training Center trains over 100,000 individuals per year in AHA and related educational programs from their 5 regional centers located in Washington, Oregon, California and Colorado. Clients include hospital systems, government/military entities, law enforcement, fire/EMS authorities, industrial/manufacturing sites, and many more. Curriculums include: ACLS, PALS, TNCC, First Aid, CPR, Airway Management, ECG, Pharmacology, Emergency Responder, Blood Born Pathogens and many more.
Cascade Healthcare Services has proven that, even in times of economic hardship, there is significant potential for organizations that focus on a mission of providing the highest level of care to the sick and injured and providing healthcare personnel with the most current and advanced resuscitation education. Realizing that no two clients are the same, CHS utilizes a team of experienced medical professionals with the latest technology to provide customized solutions to entities of any size.
Cascade provides AHA (American Heart Association) certification for the following classes: